Overplaying Your Hand as a Buyer in a Down Market
The most recent stats for Vancouver and surrounding regions tell us that we're in a Buyers' Market.  More supply is coming onto the market, more inventory is staying unsold, and some Sellers will be more motivated, resulting in pricing adjustments.  For the most part, this means prices are 'drifting down', not showing the fire sale that press headlines might imply.   
Prices Likely To Stay High Permanently 
In fact, this article recently published in the Vancouver Courier quotes Francis Fong, Chief Economist at Chartered Professional Accountants, as saying that the specifics of our market mean that prices are likely to remain high permanently.   
Win-win Negotiations 
So, there will be deals to be had right now, but keep in mind that successful transactions usually involve a 'win-win'.   One of the biggest mistakes Buyers can make is to assume they have all the power.  Very rarely will we know a Seller's personal circumstances, options, alternatives, and motivations.  So, it's very possible that we're mistaken in thinking that the Seller has to cut the deal of the Century!  More and more, we see Sellers decide to take their properties off the market, wait it out, rent it long-term or through Airbnb – there are options.  
Additionally, the psychology of buying and selling homes usually involves emotion, and that means that people can take things very personally.  For the most part, "It's just business" doesn't cut it when negotiating to buy someone's home.  They've likely put time, love, attention, and money into it, and memories carry a lot of weight. 
An unreasonable 'lowball' offer can start a negotiation off on the wrong foot.  Once a Seller is offended or angry, it can be very difficult to recover to the point of achieving an accepted contract – no matter how sincere or serious a Buyer's intentions may be.   
The best advice I can give is to listen to your Realtor – if your Realtor is saying that a particular price or request is 'one step too far', and likely to kill a deal, that guidance is based on years of experience, and good insight into where things need to land.   Reasonable compromises lead to successful deals – one party may have the better end of the stick in the short term, but no one will leave feeling cheated.    
Markets that go down will also go back up!
We haven't had a Buyers' Market in a very long time.  However, market cycles are normal, and for every 'down', we should expect an 'up'.  No one knows how long this particular down cycle will last, but a recovery is coming – it really is just a matter of time.  Over the long term, real estate just tends to go up.  See the chart below for Toronto's trend over time.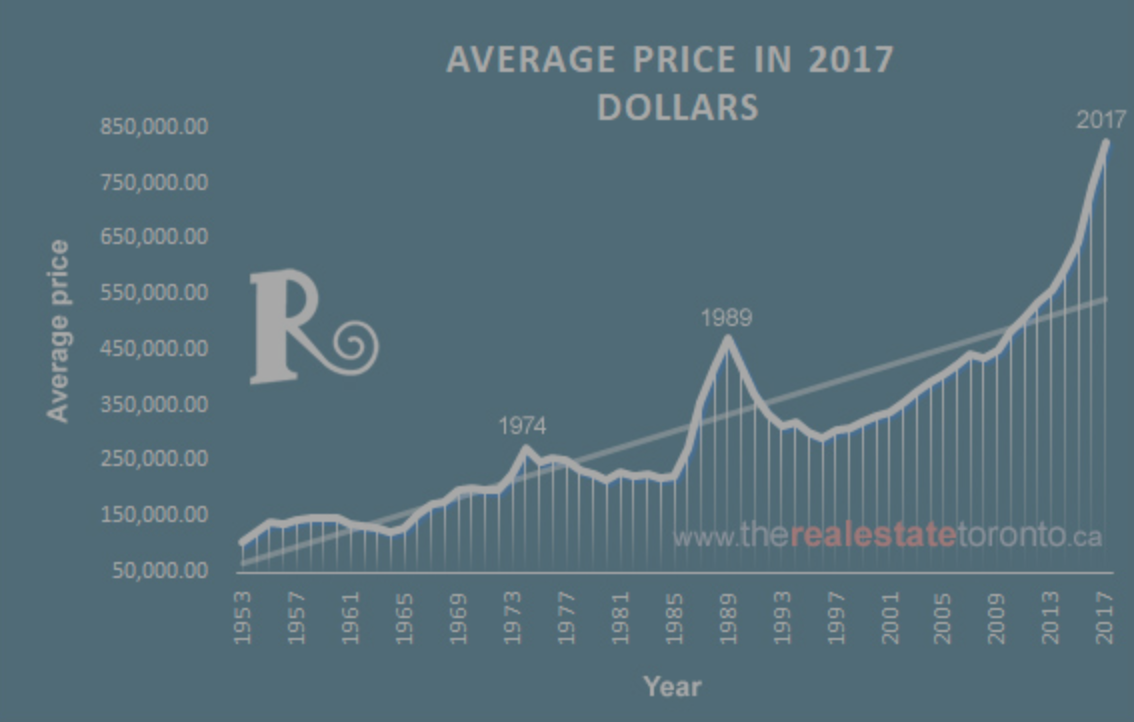 So, Buyers should take advantage of the current opportunity.  Be prudent about what you buy and what you pay for it, keep in mind that you may need to hold over a period of time, and make sure that it's what you need, and what you can afford.  
Don't get caught up in the impossible task of trying to buy at the exact bottom – no one has a crystal ball. 
For more information and advice, check out my website at 
www.carriechase.com
, please contact me directly if I can help, and please like and share my Facebook Page.